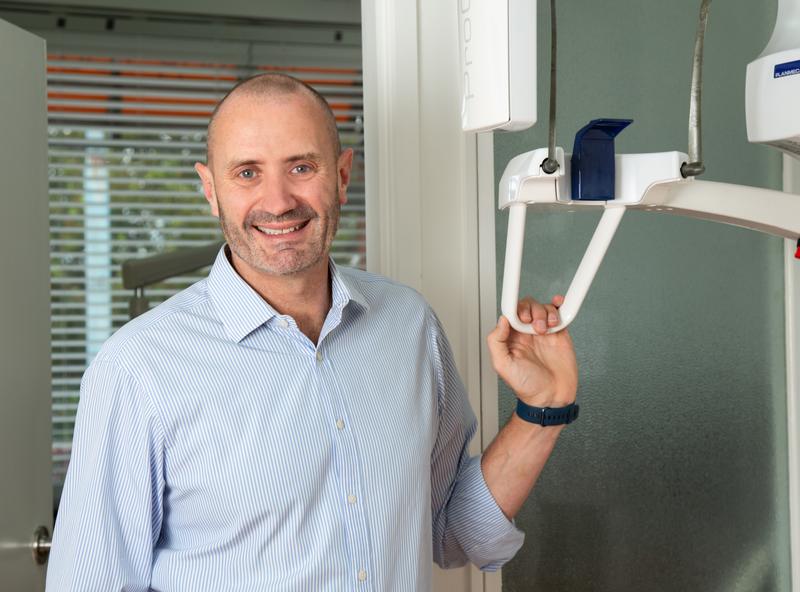 "When you really dig into why people are nervous about going to the dentist, it's not just about getting cavities filled – it's often more about feeling powerless and out of control. We try to change all that. At Accent our patients are treated like people, not just a mouth full of teeth. That's why we're amongst the best in the business: you get more information, more world-class treatment options and more power to choose for yourself."
Matt Sumner, Accent Your Dentists, Auckland
---
Hi I'm Dr. Matthew Sumner to my accountant, but most people just call me Matt. I'm the owner and principal, surrounded by a great team of dental experts located right here Ponsonby, Auckland. I'm a NZ dentist, born and bred, having graduated in 1992 from the University of Otago. Alongside providing a full range of General services, my particular interest lies in minimally invasive Cosmetic treatment that ideally is so natural looking people can't even tell it's been done, often using composite or ceramic veneers, sometimes soft-tissue laser (gum recontouring), Invisalign Go or Implant Dentistry, a dental area which is especially ground-breaking and exciting.
If you'd like to discuss options available to you, or just want a second opinion, ask us about our complimentary 15 min consults for cosmetic dentistry treatments. Our focus is natural looking beautiful teeth that make you want to smile.


Why I Love Being A Dentist
I love providing great dental care. My patients come to me knowing I have their best interests at heart. Every new patient I see will sit down with me for a one-hour appointment, so I can get to know them, and what's important to them, and they can get to know me. It's all about building a lasting relationship.Rather than tell you what to do, my role is to give you options, and encourage you choose what's best for you.
Please be sure to check out some of our CASE STUDIES here.
My role stimulates me in two main ways. Firstly because I'm always engaging with and getting to know the great people who come into the practice. And secondly, dental technology and materials are constantly changing what we can do, which all boils down to some great Cosmetic treatment possibilities for your teeth. Implant dentistry and is also revolutionising many of our treatment options - now we can basically make you a new tooth that is actually fused onto your jawbone!
I've been practising for over 25 years now, and am also a founding member of the NZ Academy of Cosmetic Dentistry and The Dental Implant Network Group, and a proud NZDA member.
Here's a bit of work background about me. Following a spell of facial reconstruction at Waikato Hospital under the excellent tutelage of an oral-maxillo specialist, and a couple of years working locally for another NZ dentist, I then spent 6-years working in London with a large team of expats before finally coming home with my wife and (then) unborn daughter to establish Accent. I've been here at Accent ever since, supported by a great team. Gabby is 17 years old now and my identical twin boys, Josh and Ben are nearly 16! How time flies...
Implant Dentistry and Cosmetic Procedures
Many people ask me how does implant dentistry actually work? Essentially, a dental implant is actually a replacement for the root or roots of a tooth. Due to titanium's special property of fusing to bone, implant dentistry uses surgical grade titanium screws or posts which are placed within your jaw bone - thus emulating the roots of a normal tooth - and then a gold or porcelain dental crown is placed on top. The amazing thing is that implant dentistry has the highest success rate of any implanted surgical device.
Crowns, bridges, porcelain veneers, and full mouth dental restoration are all things I also do lots of on a daily basis. Every day is full of interesting people with varying needs and technical challenges, and I'm constantly amazed at how varied my job is. I'm proud to be a NZ dentist working in my hometown - Auckland is a truly fantastic city. Plus Ponsonby is a great place to work - full of vibrant characters, and an easy place to catch up with friends, colleagues and patients. I enjoy putting my energy into the close-knit community we have, but it's also great being sought as a NZ dentist, even from patients outside the country.
Beyond my love of Cosmetic Dentistry and Dental Artisty, there are some things I'm very passionate about outside of work. I'm a father to three very energetic teenagers, and enjoy cooking, golf and working in my garden. If I have any time left, you'll tend to find me out fishing or diving, as I love the calm of being near or in water. We all look forward to seeing you soon.
Matt