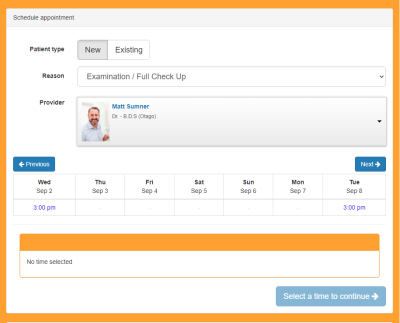 Please click the Book Now button below to conveniently book your appointment online. Once you have made your booking, you will be sent a confirmation of your appointment, and we look forward to seeing you soon!
Please note, if you are already an EXISTING PATIENT of Dr. Matt or Karen (our Oral Hygienist), highlight "Existing Patient" initially in the first box: "Patient Type". :-) Thanks!

If you are a NEW PATIENT, please choose the option "New Patient Consultation" under your reason for booking. And if you are seeing our Full-Time Oral Hygienist Karen, please choose "Oral Hygiene Visit". Thanks for using our online booking, we're really looking forward to seeing you soon!