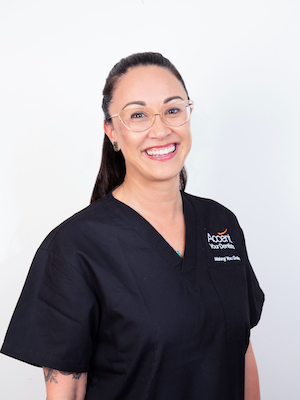 "I had my 1st treatment with Karen Hobbs today, and i have to say she is the best Hygienist I've ever been to. Total Professional, who made me feel at ease instantly, also it was pain free which is a total 1st for me and Hygienist's!!" - Kim H
Hi,
I'm Karen the Oral Health Therapist (Hygienist) here at Accent Dentists.
I have worked in the dental industry since 2003, starting as a Dental Assistant and then studying at AUT to complete my Bachelor of Health Science in 2008.
Previously (for the last 18 years), I worked on the North Shore where I built on my skills to provide the best quality of care for my patients. I've helped many adults and children who have been petrified of coming to the dentist to now look forward to their visits. Children can be especially anxious as it's the fear of the unknown. I love treating children, and always make sure to explain clearly what is going to happen to help build their confidence, and find this a very successful approach.

Helping people with halitosis (bad breath) is also something I enjoy. This can be a very embarrassing issue for people and can really affect their confidence. With education and guidance, I have made people become more confident in knowing how to avoid this common problem.

Outside of work, I live in West Auckland with my husband, three cats and two chickens. I am a foodie who also loves gardening, arts and crafts, animals, travel and hanging out with friends and family on the weekends.

I look forward to meeting you at Accent dentists.
Karen Hobbs